Pewter Highland Dancer Kilt Pin
---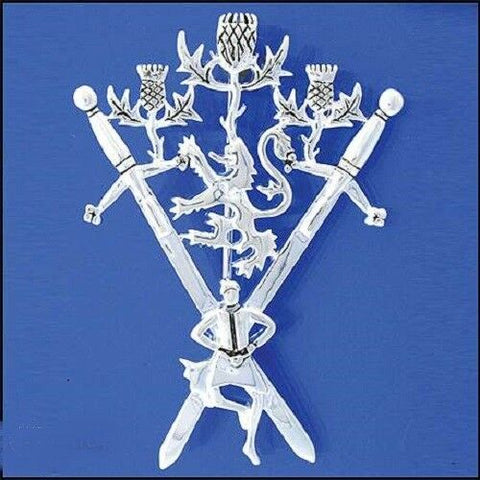 Fabulous! This Pewter Highland Dancer Kilt Pin pays tribute to four of the most recognizable symbols of Scotland: the Thistle (Emblem of Scotland), the Lion Rampant, the Claymore Sword, and the Highland Dancer.  The Dancer can be viewed as either male or female, and this beautiful kilt pin will also make a stunning brooch- gorgeous on a kilt or a coat! Highly polished Sterling silver over lead-free pewter and meticulously detailed, this is an heirloom piece you will always treasure. Other details of the Pewter Highland Dancer Kilt Pin include:
Sterling silver over lead-free pewter
Highly polished
Approx. 2 ½" x 1 13/16"
Highland Dancing is the traditional solo dancing of Scotland. Once used by Scottish regiments as an exercise to keep the troops in shape, today it is one of the premier events at Scottish Games worldwide. Until the 1900's only men entered Highland Dance competitions, but today competitive female dancers outnumber male dancers by about 100 to 1. All Highland Dancing is performed in the traditional kilt.
Related Products
---