316L Celtic Articulated Trinity Knot Hummingbird Earrings
---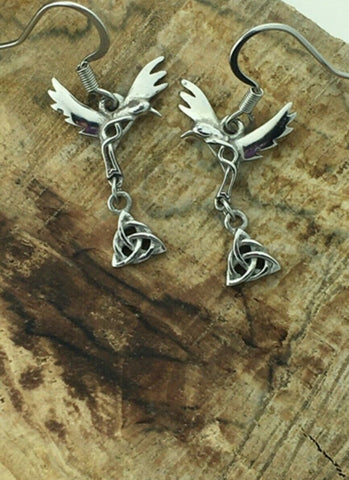 Beautiful Trinity Knot Celtic Hummingbird earrings! Just breathtaking. The tail is made from a trinity knot and is articulated and moves freely. It is made from a high-quality 316L Stainless Steel. No tarnishing, just a lifetime of beauty.
Portions of our sales help fund orphan care.
Details include:
20mm tall without the bail
10mm " wide from wing to wing
The piece is 37mm overall
Hummingbirds:
To God be the Glory for all He makes!
Tiny miracles
hummingbirds are such a creature that tries to give or spread happiness all around the globe. Hummingbird moves in such a pattern that they solidify their symbolism of eternity, continuity, and infinity.
• They are the smallest migrating bird. ...
• The hummingbird comes from the humming noise their wings make as they beat so fast.
• Hummingbirds are the only birds that can fly backward.
• Hummingbirds have no sense of smell. ...
• The average weight of a hummingbird is less than a nickel.
• hummingbirds are seen as healers and bringers of love, good luck, and joy.
This incredible flying ability makes hummingbirds one of the most fascinating birds to watch. Hummingbirds rarely stop moving, and they spend nearly all of their time in the air. Their legs are so small and weak; they typically can't walk at all. But in the air, they're magical.